Our Humble Beginning
by Lark Scarbrough-Swofford RPh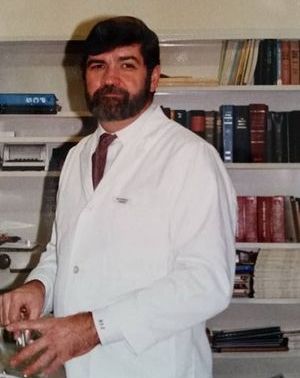 Do you remember what you were doing on January 2, 1980? I sure do! 1980 is the year that our father, Bob Scarbrough, opened the doors to Abrams Royal Pharmacy. Even though I was only 13 years old at the time, the memories of listening to mom and dad discuss the logistics of opening a new pharmacy are forever burned into my memory. One of those discussions involved a possible move to Kilgore, Tx. A lovely little town, but this city girl is glad they settled on Dallas!
That first day wasn't a doorbuster by any means, in fact, it was a bit lack-luster. That first week, dad had only filled a couple dozen prescriptions, but each one was filled with absolute love for his patients and their wellbeing. As word got out about a new neighborhood pharmacy in Lake Highlands, people loved it, and in turn, loved him. Those of you who have met our father, you'll know that when I describe him as the most loving person with the sweetest voice and demeanor, you know I'm not just being the doting daughter. This fact is as true as a burnt orange Texas sunset.
And speaking of the sun, let me tell you about the summer of 1980, a moment in time that I remember all too well. This was the summer I thought for sure there would be headlines in the papers reading "Pharmacist's Family Melts On Sidewalk Of Lake Highland's Neighborhood!" This was the summer of printing out hundreds of flyers, rolling them up and tying them to every single front door in the neighborhood. Every. Single. Door. Looking back, yes, it was hard work, especially since mom wouldn't let us walk on the neighbor's lawns – we had to walk up and down each sidewalk and front walkway to deliver our little fliers. However, by year's end, we learned a valuable lesson on how hard work pays off because it was clear that Abrams Royal Pharmacy, with the help of three little girls, was positioned to be a successful business.
Over the years, business continued to grow, and dad earned the reputation of being able to compound just about anything the doctors needed which, in the 80's and 90's, is saying something! Procuring chemicals, bases and dispensing devices demanded a vastly different set of skills back then.
Saturdays were always special days with dad. My sisters and I would work with him during the day stocking the shelves, washing dishes, taking out the trash and filing paperwork. You know, the typical child labor you're exposed to when you're a part of a family business. On one of these Saturdays in particular, I remember seeing dad intently reading through one of his many journals, not one of the pharmacy journals, but a health journal. I didn't think too much of it at the time, but then I noticed him reading articles and journals on nutrition when he was at home. At this point I was a moody teenager and couldn't be bothered with such trivia, so I never remember it being a real topic for discussion. However, I did see a shift in how his consultations went with his patients. Dad was sleuthing out ways for people to improve their health without pharmaceutical intervention. I was intrigued, but high school and college prevailed in my life, so I'd eaves drop and learn by osmosis when I could.
After graduating from Pharmacy School, I started working full time as a pharmacist and quickly learned that I had lots more to learn, and who better to take me under his wing than my own father. We attended dozens, if not hundreds, of lectures and seminars together which gave us the tools by which we could really make a difference in our customer's health. More years pass and the pharmacy is stronger than ever. Mom and dad are able to take time off to travel the world and check exotic countries off their bucket lists, but his learning never stopped. He'd strike up conversations with local healers, spiritual leaders and other natural minded people and come home with loads of great information to share.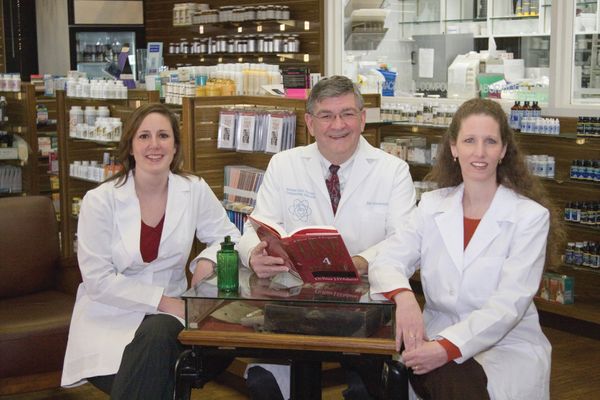 A few more years pass and our youngest sister, Codi, graduates from pharmacy school and joins the team. Our middle sister, Greer, works in bookkeeping with our mother, handles our marketing materials and coordinates our ever-popular monthly seminar series. We're all in, as they say!
When you walk into either of our stores, you'll quickly realize that we're not a "normal" pharmacy, meaning you won't find school supplies, trinkets and junk food lining our walls. What you will find, however, are professional quality nutritional supplements, pharmacists that are available to answer your questions and windows that look into the lab where the compounding magic happens. We're not your typical "count-pour-lick-and-stick" pharmacy, and we're proud of it! Since 1980, the pharmacists at Abrams Royal Pharmacy have held the belief that when we give our bodies the nutrition it needs, there is a decreased need and reliance on pharmaceutical intervention which then results in an increase in vitality and health. Working as trusted partners with physicians and patients, our fellowship-trained pharmacists develop customized protocols that include nutrition, professional quality supplementation and compounded medications to meet each patient's unique needs.
Whether you've lived in the area for years or are new to town, next time you're in the neighborhood, drop in and say 'hi'!
- Lark Scarbrough-Swofford RPh, Daddy's favorite eldest child