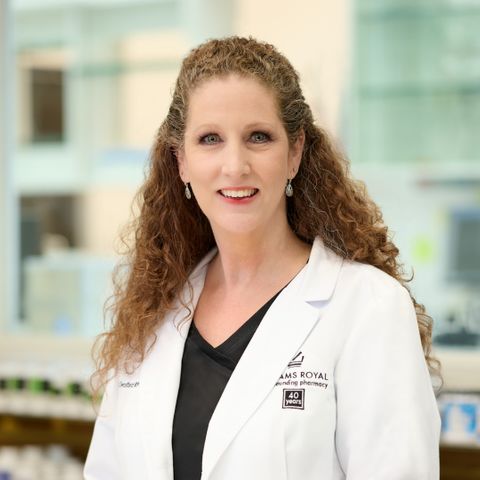 Lark Swofford, RPh, FIfHI, FAARM
Lark Swofford is one of the very few pharmacists around who would rather help people get healthy and stay healthy using natural modalities in lieu of relying on pharmaceuticals to do the job. "Not to say that all prescription medications are 'bad', but there are many cases where nutrition and lifestyle modification make better options than the pharmaceuticals that carry with them a litany of negative side effects. Once nutritional deficits are addressed, the body has the tools it needs to attain and retain health."
Lark graduated from The University of North Texas in 1991 with her bachelors in Physical Education and from The University of Texas in Austin in 1996 with her Pharmacy degree. Lark co-owns Abrams Royal Pharmacy II in Plano with her sister, Codi, and is the PIC at the original location in Dallas. Lark specializes in pharmaceutical compounding, bioidentical hormone replacement therapy, compounding for patients with multiple chemical sensitivities, and nutritional counseling. She also holds monthly patient webinars on various health related topics. Lark is a member of the Texas Pharmacy Association (TPA), the International Association of Compounding Pharmacists (IACP) and holds fellowships in the Institute for Human Individuality (FIfHI) and in Anti-Aging and Regenerative Medicine (FAARM).
Lark and her husband Roy have 2 amazing sons, both of whom recently graduated from Savannah College of Art and Design and are now working on various art and entertainment projects with team members throughout the country. In her spare time, Lark enjoys spending time with her family and friends, and is constantly scheming on ways to spook the neighborhood kids at Halloween.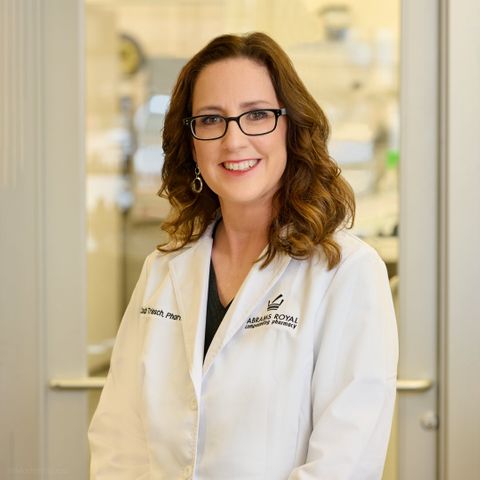 Codi Triesch, PharmD, CCN, FAARM
After graduating from The University of Texas at Austin College of Pharmacy in 2006, Codi had the wonderful opportunity to join her father, Bob Scarbrough, RPh and sister, Lark Swofford, RPh at Abrams Royal Pharmacy in helping patients reach their health goals. Codi has a passion for helping patients feel their best by educating them on the benefits of compounded medications and nutritional supplements. There is a lot of information in the world, sometimes too much, and Codi enjoys being a resource to the community in helping patients navigate and understand the wealth of information available about healthy lifestyles.
In 2007, Codi and Lark opened Abrams Royal Pharmacy II, located in Plano, so that they could help even more patients with their healthcare needs. Codi is the pharmacist in charge in Plano and is there most days. Codi enjoys having consults to help educate patients and providers on balancing hormones, thyroid function, auto-immune disorders, fibromyalgia and fatigue, veterinary compounds, and nutritional supplements.
Codi and her husband Justin have two amazing children who keep them busy with many extracurricular activities such as gymnastics, golf, tennis, and soccer. When their weekends are not filled with sporting events, Codi and her family love to travel and experience new places.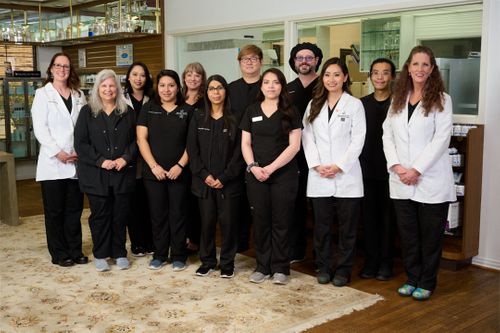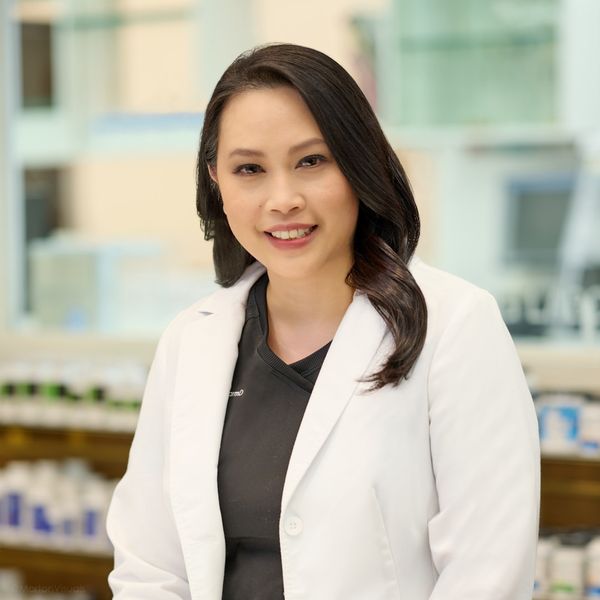 Vivian Vu, PharmD
Vivian received her Bachelor's degree in biology from the University of Houston and completed her PharmD at Massachusetts College of Pharmacy and Health Sciences – Worchester in 2008 where she was a member of the Rho Chi Honor Society. Vivian then returned to Texas and joined Abrams Royal Pharmacy in 2009 where she quickly became intrigued by compounding and obtained her certificate in non-sterile compounding from The Professional Compounding Centers of America (PCCA). Currently, she is the head of the compounding laboratory. Vivian served as Vice President of the Dallas Area Pharmacy Association from 2015-16 and on the board of directors from 2016-17. In her spare time, she and her husband love to travel the world to experience distant cultures and cuisines.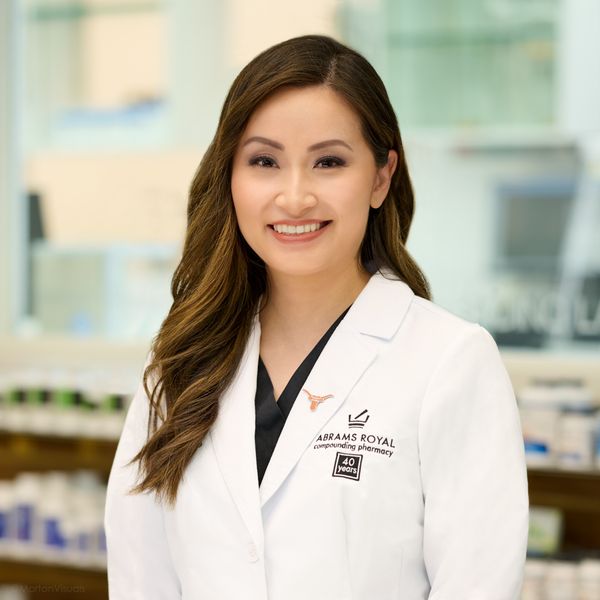 Tammy Ho, PharmD
Tammy joined Abrams Royal Pharmacy in 2013. She earned her Doctorate of Pharmacy at the University of Texas at Austin. Prior to earning her degree, she completed her pre-pharmacy requirements at the University of Texas at Dallas. During her last year in pharmacy school, she received training in compounding and nutritional supplements, geriatric medicine, internal medicine, oncology, neonatology, and clinical research. She also completed training in non-sterile compounding at PCCA. She served on the Dallas Area Pharmacy Association board as a member for two years. She is a Dallas native, and currently resides in Plano with her husband and 2 children. She enjoys spending time with her family and friends, traveling, hiking, cycling, and trying new food.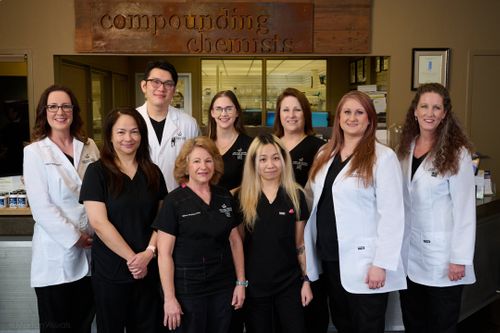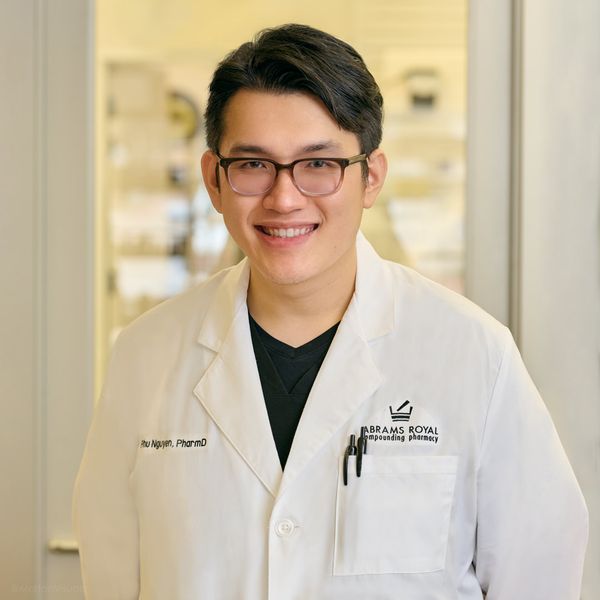 Phu Nguyen, PharmD
Phu joined the Abrams Royal Pharmacy team in 2019. He earned his Doctorate of Pharmacy at Texas Tech. He has been involved with independent pharmacies throughout his whole career and is passionate about compounding. His hobbies include cooking, computers, and traveling.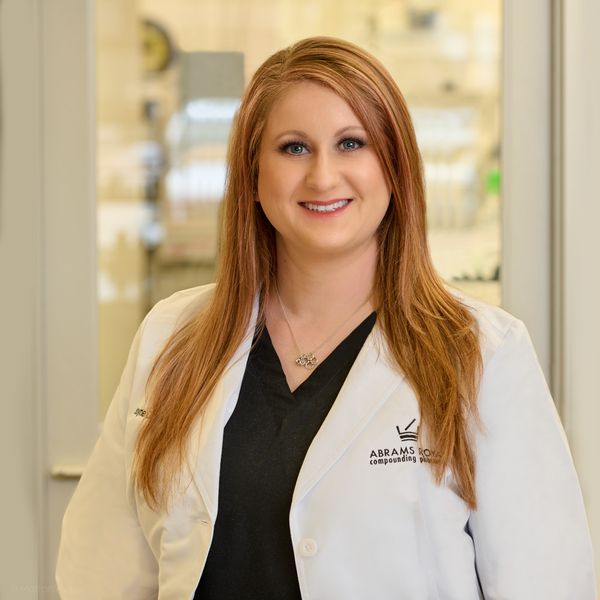 Jayne Cornell, PharmD
Jayne grew up in Austin, TX and graduated from Texas A&M University in 2003 with a B.S. degree in Biomedical Science. She then graduated with a Doctor of Pharmacy degree in 2007 from University of Houston. While in pharmacy school, she learned about compounding and decided that was the specialty she wanted to pursue. She began working for Abrams Royal Pharmacy immediately after graduation and started as the lead pharmacist of the Plano location the following year. Jayne spent the next 8 years as the primary pharmacist at the Plano location and then continued on as a staff pharmacist in the compounding lab in Plano. She served on the Dallas Area Pharmacy Association board for several years, including in the roles of Vice President and President. Jayne lives in Sachse with her son and daughter, and spends most of her spare time shuttling them between their many extracurricular activities and reading as much as possible.